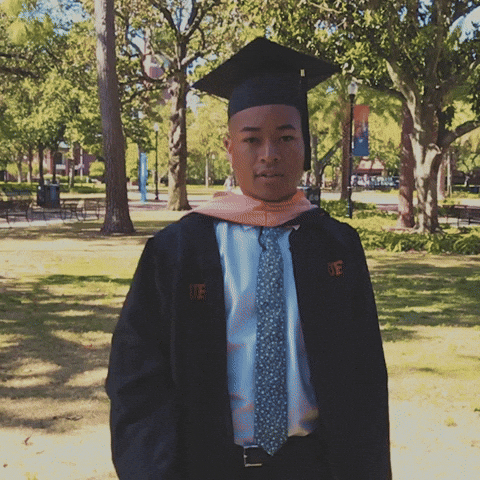 Dear Freshman Self,
It's me! YOU, five years from now! Guess what girl you graduated and yes your grandparents are proud. But enough of your future, I want to help you focus on your now. I know right now coming into college you are expecting an adventure. Some life changing journey that will end in this unshakable sense of self worth, independence, your glow up szn and inevitably discover who you want  to be. And to some extent, most of those things will happen. College teaches you things about yourself that only the course of life can bring. And I want to shine a light on a few of those things for you to take note of as they happen.
The first thing is friendship. The relationships you'll form during your time here will be essential. They'll be the ones to guide you through college, introduce new things, and be the ones to help you through hard times. And you will have hard times. Be careful about who you choose to be friends with because not everyone has the same mission as you. This is important because these are the people who will help you make good decisions. I know you like to say you create your own path and never follow the crowd but your friends will be those people who influence you. And lets face it, if they don't invite you to a UGP meeting then they're just not worth it. Also, don't hold on to people from your past, you're growing. It's natural to move on and in time they'll understand. Remember what your Daddy told you, "You can be a friend from a distance too".
The next thing I want you to do is to have the courage to get out of your comfort zone. People say America is the land of opportunity, I say college is. Period. You can join clubs, community organizations, Greek Organizations, mentor, campus ministry and so much more. I know its a lot. Take a step back and figure out what it really is you like and do it! Find something new and try it! You will never get this chance again. Honestly, there is no better way to jump into college than to get involved. This is your time to gain experiences and skills that will carry over into adulthood. You will take on roles that mold you as a person and help you discover things about yourself. You can't waste this opportunity. Who knows (I do), maybe you'll become a president one day.
I also want you to seize the moment. Remember, college is your time to be selfish. Do things that make you happy while you have no other responsibilities (except good grades. Keep trying you'll make the Deans list, I promise). I know you came to UK with the intent to study abroad. Do it. It'll completely change your life. In the short amount of time you're away you're going to learn lessons and make friendships that may very well stand the test of time.
The last thing I want you to know is that you're stronger than you think. Remember those friendships I told you about? This is when they'll matter most. You're going to be tested by family, heartbreak, friendships and all of lifes demons. I want to tell you ahead of time that everything will be okay. Everybody goes through something. It's how they handle it that matters. And when it's too much to bare, pray for your serenity.
College isn't easy and no one ever said it would be. But what it will be, is the time of your life. I hope you payed attention to these things I've talked about. Friendship, courage, seizing the moment, and strength. These are small parts of what college will hold for you and anyone reading this. You'll be happy to know that you made your family proud in the end, but most of all you made me proud. Now go make us some memories.
Love,
Kamaria Simone #OldHead
Please reload